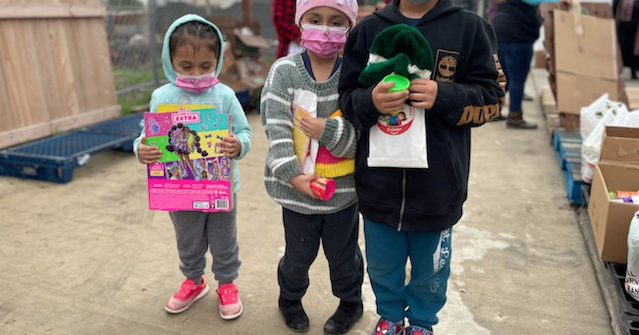 Poplar and Tulé communities unite to help more than 400 families | Pictures
POPLAR – Grateful parents, smiling faces and happy children, that's what Poplar's Central Valley Empowerment Alliance accomplished on Friday at its "Healthy Season" event where more than 400 families, including 110 families from the Tule Indian Reservation River, received packed lunches with a turkey and garnishes for a holiday dinner. In addition, more than 400 children and young people received gifts. Families were served at two locations, Poplar at the Larry Itliong Center and the Tule River Reserve.
Dennis Townsend from the Tulare County District 1 Supervisory Board volunteered to help distribute the food and gifts at the reservation and said it was such a joy to see the smiles on the children.
"Like any kid would be, they were really happy to receive something," Townsend said. "We settled in in the morning and within hours, we had distributed all the gifts. They were not excited, so the child could choose what he wanted. It was very fun. I liked to greet people. I really had a good time. "
Parents were also grateful, he said, for the food baskets they received.
While Townsend and the volunteers were at the reserve, other volunteers were busy dealing with a large crowd at Poplar.
Kaweah Health's Street Medicine provided emergency care and referrals to 30 people. In addition, 60 COVID-19 vaccines and booster shots have been administered. Information and help for landlords and tenants was also offered.
"When a community comes together, nothing seems impossible," said Mari Perez-Ruiz, executive director of CVEA at the Larry Itliong Research Center in Poplar. "This was our third event, but the first at the Itliong Research Center. They were smaller in the past, but this year we went to the Tule River Preserve and asked to partner with them.
Perez-Ruiz thanks Red Cloud Manuel of the reserve and Dennis Townsend for their help in making this a successful event, especially as the small community of Poplar is still trying to recover after being hit by a destructive fire. July 9 which took several businesses, vehicles and homes from the city center, leaving at least 12 people displaced.
Turkeys, hams and all toppings were on offer, Perez-Ruiz said, and many families picked up the toys for their children.
"We want to help the community, especially during the pandemic," Perez-Ruiz said.
She also thanked Tule River Reservation for partnering with them for the event. In addition, Art Rodrigues, director of communications and organization of CVEA and president of the Poplar Community Service District, said he received donations from United Way, Proteus, Tulare Kings Hispanic Chamber of Commerce, Latino Rotary of Tulare County, League of Latino Voters, and Dennis Townsend and the Tulare County Oversight Council.
Perez-Ruiz especially credited some of the town's elders and the region's youth for their help.
"One of the best things about the event is the role young people play in raising awareness, coordinating and welcoming Healthy Season," she said. "A year and a half ago I asked young people what they wanted to be when they grew up and I got blank stares. And now four of them have been employed (for Poplar) and have the opportunity to become leaders in our community.
Youth organizer Isabel Rodriguez, along with four young adults hired from Poplar, were instrumental in the success of the program, said Perez-Ruiz.
"They scoured the area and did the outreach themselves," Perez-Ruiz said. "These young people were hired in the community and reflect the community. They helped plan and organize the day and did a lot of the wrapping for the gifts.
Many community members had been reluctant to get the vaccine for various reasons and beliefs, but after elders and young people contacted the community about vaccines and emergency care, Perez-Ruiz said they had many "first to arrive" to be vaccinated.
Dr Omar Guzman and three doctors, as well as medical students, set up a barrier-free, "barrier-free" emergency care center on site, Perez-Ruiz said.
"They took care of prescriptions, referrals to clinics and referrals to hearing aids. And that was all 'No Barriers' – no questions asked. It was for anyone who needed help and couldn't get it.
The community is still healing, Perez-Ruiz said.
"We are coming together – taking care of each other, getting ahead of the pandemic," Perez-Ruiz said. "We believe in our community. This holiday event was about it – opening doors for our young people to dream. This is what makes the work we do unique. We are community members who help community members.