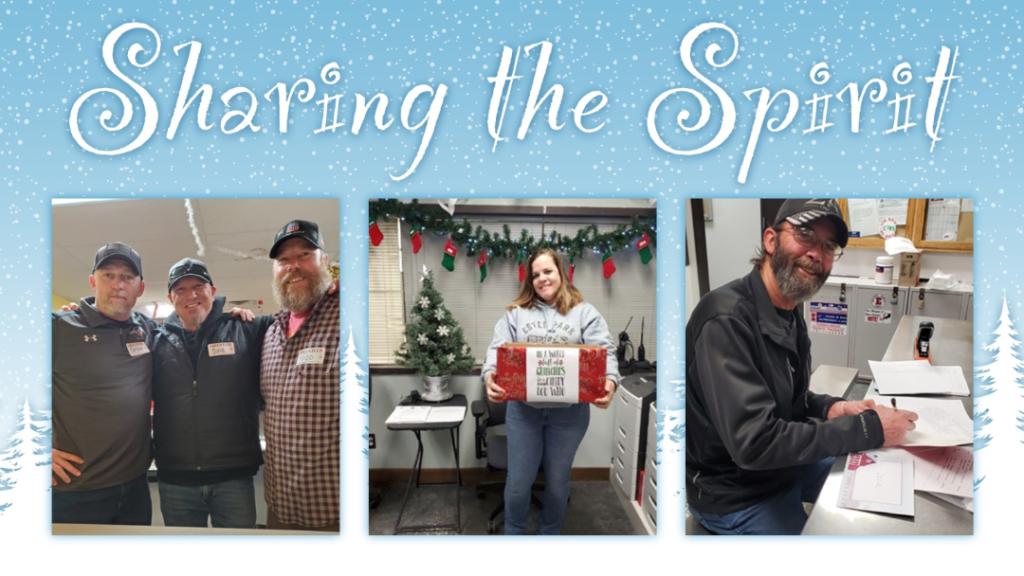 Union Pacific employees share the spirit, one community impact at a time
In rail cities across the 23-state Union Pacific network, our employees supported local families in need of encouragement this holiday season.
Three Times the Joy: North Platte's Awesome Community Outreach
The annual Bailey Yard Cheer-Giving got off to a flying start as task forces from the Railroad's North Platte location engaged in community service and giving. Their efforts included an Adopt-A-Family effort, community donation booths at a local event, as well as happy deliveries to a nearby nursing home.
"Each year, we partner with the North Platte Public School District to support families who might enjoy the holiday cheer," said Faye werlinger, Manager-Field Operations Support, Transport. "School counselor Veronica Gale is helping identify families who might need a boost, and she's worked on Santa's behalf to deliver gift items."
On December 22, Cheer-Giving volunteers contacted the public. Bailey Yard employees served hot chocolate and snacks to the public at Cody Park Christmas Village. Yardmaster and Total Safety Culture (TSC) coordinator White lemon balm helped coordinate the event. The North Platte team also handed out free coats, hats and gloves from an event booth to warm up the season for those in need.
A kind word goes a long way. To wrap up Cheer-Giving, the Bailey Yard team traveled to the North Platte Care Center and Centennial Park Retirement Home with cards and cheerful gifts, making things bright for the 140 residents. Office supervisor Coleen bringewatt, Clerk Elisabeth thomas, Faye Werlinger, Field Operations Support Manager, Christine Marshall, Workshop Operations Manager, and the mechanical and locomotive maintenance crews gathered a variety of gifts for the holiday season.
"Everyone from Bailey Yard has been involved, writing holiday greetings to the good-humored residents," Werlinger said. "Our goal was to brighten up their day. We look forward to more community partnerships and projects this year.
Proviso Toys for Tots Drive adds a little fun
Employees of the Proviso Diesel store in Illinois celebrated the season with a Toys for Tots campaign to benefit their local community.
"I couldn't be more proud of the amount of toys that have been brought in in such a short time," said Derek schumacher, systems developer, Mechanics. "The Proviso Diesel Shop has passed."
Through the Proviso Diesel store, children in their local community received Barbie dolls, action figures, baby toys, fancy dress clothes, toy cars, sports equipment and many other fun items.
Proviso supported the Church Street Brewing Toys for Tots campaign.
New Orleans BEN Chapter: Bringing Fun News to Girls Haven Texas
The fourth time is the charm: The Black Employee Network (BEN) section of New Orleans shared the fun with the nonprofit Girls Haven in Beaumont, TX.
"All charitable donations have a huge impact," said Philippe wright, Brakeman, Transportation, and Vice President, BEN New Orleans Chapter. "The territory of the BEN New Orleans chapter stretches all the way to Texas, so Girls Haven is at the center of our membership.
"Through fundraising, we were able to donate a variety of $ 25 gift cards valued at $ 350, allowing Girls Haven attendees to choose their own treat.
Girls Haven serves girls referred by foster families, the juvenile justice system and local counseling services with residential care, vocational counseling and development support.
Harriman Dispatch Center: Giving Full to Adopt a Family
The Harriman Dispatching Center (HDC) in Omaha celebrated the season by supporting two local families as part of a UPVETS Adopt-A-Family campaign for the 155th Air Force Air Refueling Wing in Lincoln, Nebraska.
"I am proud of our HDC team members for helping these families get through the holiday season," said Tom lischer, Senior Vice President, HDC and Network Operations. "Great job, HDC".
HDC employees raised over $ 1,400 and purchased over 90 gifts for the UPVETS campaign, bringing good humor to six children and their parents. Gift items included gift cards, diapers, pajamas, toys, and household essentials.
"We were delighted to ensure a happy holiday season for a few of our servicemen and their families," said Nick smith, Superintendent-Lane Services, HDC. "Thanks to the team members who made a donation, our employees have shown great spirit for this cause. "
Learn about the Sharing the Spirit kindness of UP employees in Council Bluffs, Iowa and Omaha; three towns in Nebraska: North Platte, Bellevue and Lincoln; our UPVETS chapter's Toys For Tots campaign in Houston, Texas; the Adopt-A-Family efforts in De Soto, Fort Worth and Omaha; as well as holiday cheer in Houston, North Platte, Gretna and Omaha.